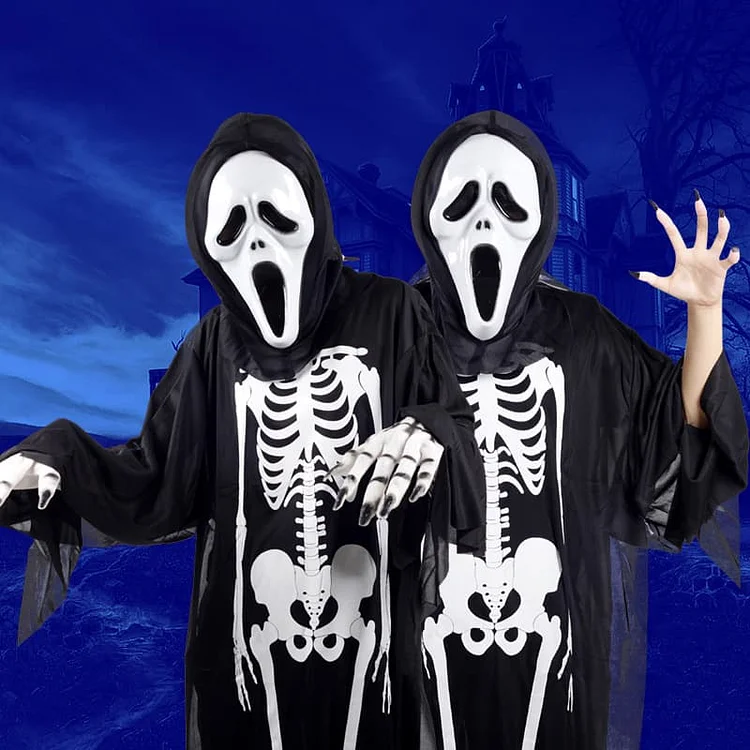 Material:
made of high-quality fabric, comfortable, mysterious, suitable for most people, breathable and slightly thin. Doesn't feel like it has too much weight. For a better look, you can wear black or dark colored bottoms.

Unisex size:
The adult ghost costume is 47.2 inches long and fits people between 65.0 and 70.9 inches. The children's ghost costume is approximately 35.4 inches long and fits children from 39.4 inches to 49.2 inches. The hooded cloak, holographic mask and gloves can be put on and taken off quickly and are not easily removed to make you more mysterious.

Spooky Costume:
comes with a black skull cap, spooky face mask and skull gloves. A complete costume if you are planning a Halloween costume party or a special cosplay party.
The perfect costume: black pajamas and gloves with a skull printed on them and a scary face, this classic combination makes you look more vivid and real and scares guests, Neighbours and you will have an impressive holiday.
A beautiful cape, the perfect costume for roll-ups, carnivals, carnivals, motto parties, masquerades, theatre shows, history parties or Halloween. Ideal for any witch, wizard, goth, vampire, adult costume and more.