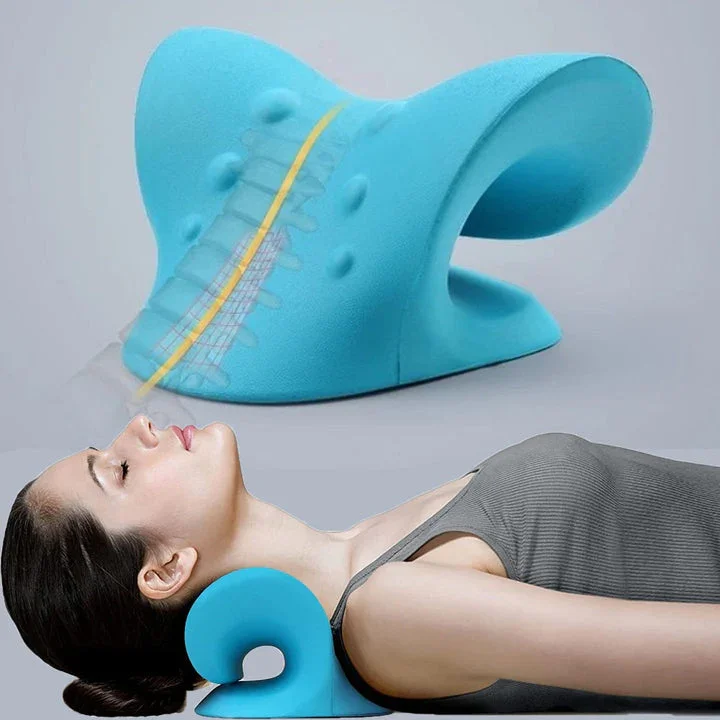 Features:
Relief neck pain in just 10 minutes, per day.
Simple and effective physical solutions to soothe away stiff neck helps in restoring proper cervical curvature associated with consistent use.
Dense and soft foam design provides a sturdy, lightweight, and comfortable base.
Normally you will need 1-3 days to adapt to this pillow because your neck needs time to familiar with the new corrector curvature. You will enjoy extreme comfort after you get used to it!
Using this neck stretcher 10 minutes a day can help reduce neck pain, provide neck tension relief, relieve nagging headaches and migraines, and restore proper cervical posture.
This cervical neck traction device (neck curve restorer) is safe, comfortable, and easy to use.
Ergonomically designed for optimal comfort while providing cervical traction.
With proper and consistent use, the Restcloud Wellness cervical traction wedge fulcrum can aid in:
Restoring cervical curvature.
stiff neck.
military neck.
straight neck.
forward head tilt.
forward head posture corrector.
spine alignment.
reducing headaches and migraines.
chronic neck pain.
pinched nerves.
Simply lie down on the Cervical traction pillow and let the weight of your head gently stretch the upper shoulder and anterior neck muscles.
The Perfect Stretch Every Time:
The Cloud Cervical Traction Device features two levels of traction; the convex side gives less traction and is appropriate for people who have severe neck pain and a limited range of motion.
The concave side offers the most stretch and is ideal for more advanced users.
Specification:
Material: 

Polyurethane (

PU).

Weight: ~

350g

Size: ~9

.5 x 6 x 4.7 Inch
Package includes:
1x1Pc Neck Traction device