Thenew all-in-one workout tooltomake cardio fun again!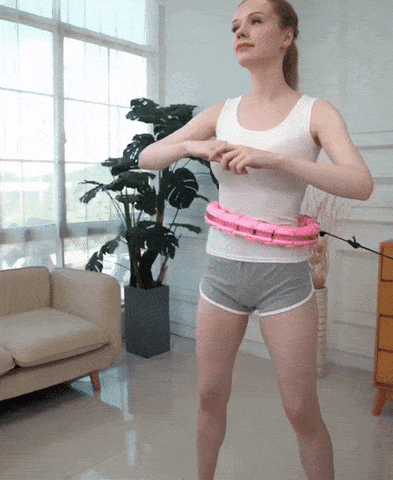 Easily start doing cardio at home. simply toss the weight horizontally and use your body motion to keep the weight in the air. It looks easy. but may be more challenging than you think! It's a real workout!
Do it While Watching TV orListening to music
Full Body Cardio
To keep the Weight in motionactivate your leg musclesto power the movement. Keep your core engaged & even add weights to challenge yourself!
"150 MILLION+ VIEWS"
The Infinity HoopWENT VIRAL!
Our Infinity Hoop was seen by millions in the past 30 days and because of that we completely sold out 3 times!
FROM 20 TO 52 INCHES
ADJUSTABLE SIZE
How Does It Work?
Our smart hula hoop comes with 24 knots. Every knot is around 2 inches long. And they are adjustable to any body size. To use the smart hula hoop simply tighten your core and swing in a motion from left to right. When your waist has reduced enough in size, you can subtract a knot to make the smart hula hoop fit tightly once again.
FAQS
1. Will this fit my waist?
Our Smart Hula Hoop fits all waist under 130cm or 52in.
2. Is the Smart Hula Hoop adjustable?
Yes, the Smart Hula Hoop consists of 24 links. Each link is roughly 2 inches long and is detachable. 
3. What part of the body does it work?
It works your glutes, stomach, hips, and arms. Essentially your entire body. Our smart hula hoop is designed to help you achieve a sexy slender hourglass figure.