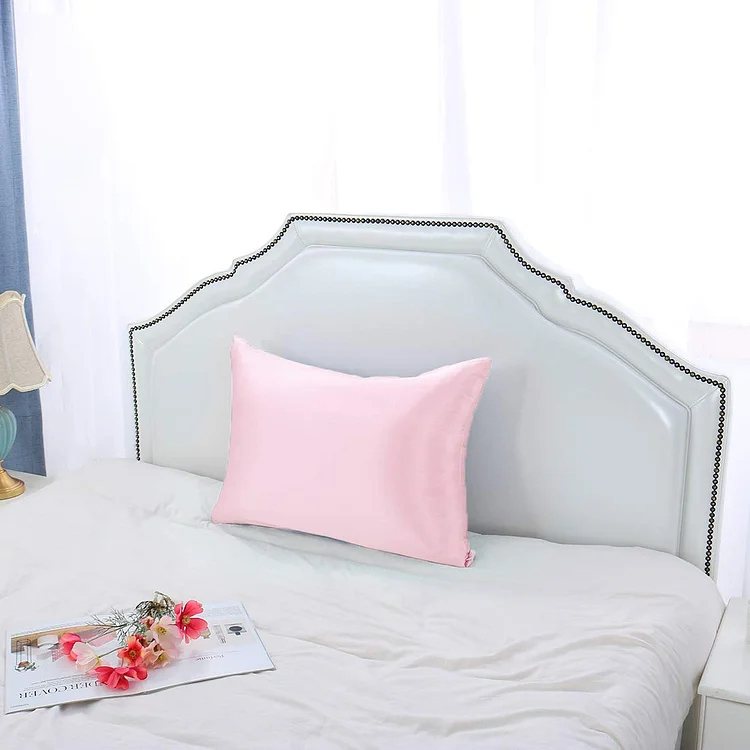 A healthy silk pillowcase for babies and toddlers
Bronaxshop
always aims to provide customers with 100% pure and natural mulberry silk pillowcases, and no chemicals are added in our production process and the use of any machinery or chemical additives that could potentially compromise the quality of our silk has been strictly forbidden to ensure our customers enjoy the perfectly soft and smooth feel of our silk products. Supper healthy for babies and toddlers.
Maybe You Wanna Take A Closer Look
100% Mulberry Silk Pillowcase:

Olesilk silk pillowcases are made of 100% high quality pure natural silk - Both Sides (front and back).
Silk Pillowcase Zipper Design:

Hidden zipper closure at one side - Hidden zipper keeps your pillow safe and secure inside the case.
Cosy & Smooth Touch:

Silk pillowcase is super soft and smooth to protect all hair types from friction, breakage, frizz, and bed head.
Learn More About the Health Benefits of a Silk Pillowcase:
Better Face Health:

It's true that your face may have more contact with a pillowcase over other fabric. So choosing a chemical-free and mites-free silk pillowcase is rather important, and may help keep your face looking more refreshed and healthier.
Moisture Keeping:

Sleeping on a silk pillowcase is a great option to help your skin maintain its natural moisture. Silk fabric helps naturally keep moisture close to your skin and thus will help your skin stay more hydrated.
Less Chemical Exposure:

Silk is produced from domesticated silk worms that are reared and raised in captivity. They have no predators to be protected from and are well cared about throughout their life, helping to produce a great silk fiber with minimum chemical exposure.
Naturally Hypoallergenic:

Silk is naturally resistant to dust mites, fungus and mold, in addition to many other allergens.

Benefit to Your Skin and Hair:

Sleeping on a silk pillowcase can help reduce the appearance of facial wrinkles and help your skin and hair stay healthy and smooth.

Luxury Bedding:

Laying your on a silk pillowcase is the perfect way to end your day. Enjoy the soft, smooth and luxurious feeling of silk against your skin and hair.

Reduce Bed Head & Split Ends:

For silk fabric boasts a smooth surface, sleeping a silk pillowcase can help reduce friction on your hair better than any other fabric,which often causes damage, like spilt ends. Long-term use of luxury silk pillowcases will help keep your bed head under control.

Easy to Care For:

pillowcases are made from a heavy weight silk that can be machine washed. See our guide to caring for your silk products.
Great Material:

100 Mulberry Silk Pillowcase - Our silk pillowcases are made of 100% high quality pure natural silk on both sides, breathable and smooth.
Temperature Regulator:

Pure mulberry silk is a natural temperature regulator which is skin-friendly and helps keep moisture around our skin to help our body feel cool in summer and warm in winter.
Cozy Sensation:

Silk's natural fiber and tight weave allow the skin and hair to slide over the pillowcase very gently and freely, it creates less friction between your hair & skin and the silk pillowcase, helps reducing facial wrinkles, preventing dry/knotted hair and reduce hair loss.
Great Investment on Your Sleep:

Choose a silk pillowcase, you are getting the best quality fabric on the planet for the most critical part of your sleep experience. A small investment, yet brings so much impact on your skin and hair over a long period of time.