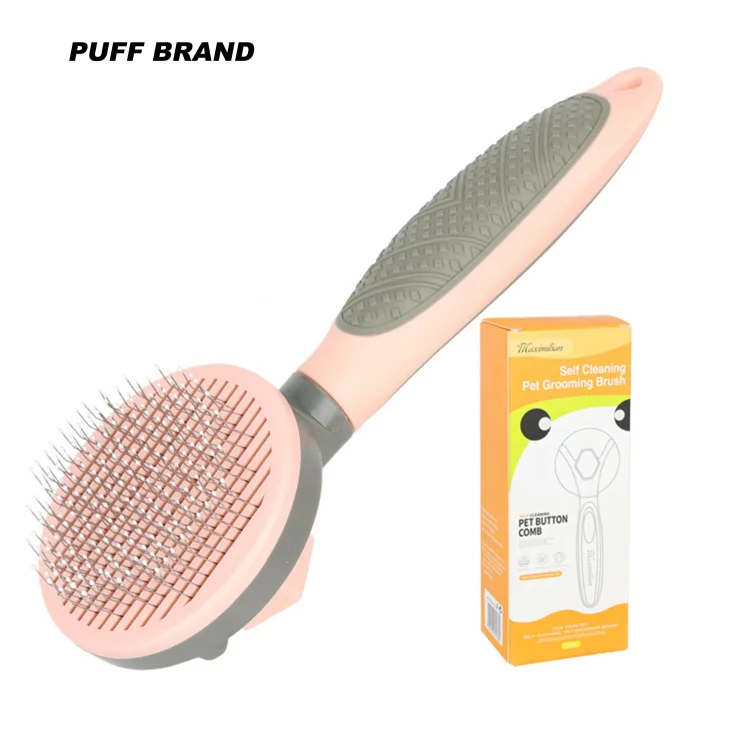 Self-cleaning function: Quality combs are equipped with self-cleaning buttons. The fur collects in the brush and just pushes the button and the hair comes right out like magic! The fur release function helps prevent the fur from being scattered before entering the trash can. It's easy and saves a lot of cleaning time. make your shedding easier and more efficient.

Gentle and safe: This is a really nice pet brush. The Needle Comb Is Slightly Curved, which penetrates deep into the coat, really combs the undercoat well without scratching your pet's skin, Fine brush picks up a lot of hair very quickly. The pets love the way it feels. Nice brush for the price well made.

Non-slip comfortable handle: Our Brush is designed with a comfort-grip and anti-slip handle, It's easy to hold with a comfy handle. This will keep your hands comfortable no matter how long you brush! The holes and hooks at the bottom of the handle make storage easy.

Multifunction: Pet Grooming Brush gently removes Loose Hair, and eliminates Tangles, Knots, Dander, and trapped Dirt, without uncomfortable and painful pulling. good for preventing skin disease and increasing blood circulation. Massaging particles won't scratch your pet and leave your pet's coat soft and shiny.

Suitable for Pet owners, veterinarians, and pet groomers perform hair grooming for your pets, suitable for small, medium, and large short-haired/long-haired animals, with thin or thick fur. Cotton balls will make pets like you more.