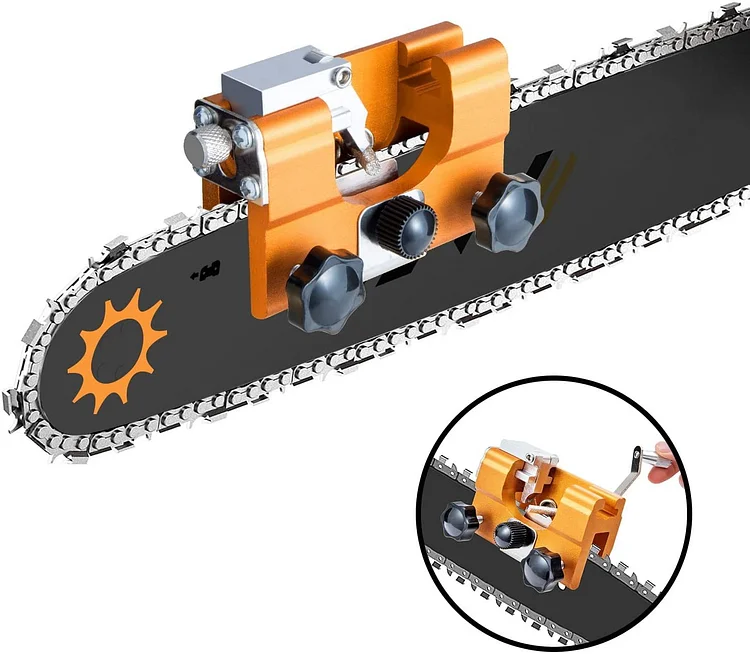 Creative design: to suit different chain sizes, this chainsaw sharpener is designed with two fixed sharpening holes and a standard 30° front sharpening angle. Anodized aluminum clamps, also for use with electric chain sharpeners. Flexible operation and can be used on all chainsaws.

Safe and portable: this chainsaw sharpening tool is lightweight and we provide a storage bag for easy storage and portability for outdoor use. We also put a spare pair of gloves in each box to protect your hands from damage. Together with a cleaning brush, it can effectively prolong the service life of the chain.

🌲【Simple and efficient】- The chainsaw sharpener is so easy to use as a sharpener, simply attach the clip to the bar, place the ratchet over the teeth, insert the burr into the guide bushing and turn the handle. Sharpen your chainsaw like new in a quick, easy and accurate way.

Powerful and durable: the chainsaw sharpening jig is made of rust-resistant stainless steel alloy material, which is durable and very strong. Every time you sharpen the teeth, just pull the chain, precise sharpening can guarantee every tooth is repaired, and it only takes 3-5 seconds to clean the dull chain again.

Perfect choice: use the chainsaw sharpening jig to keep your chainsaw as sharp as new, saving time and effort on the job. Nice packaging, it's the perfect gift for man and a must-have chainsaw maintenance sharpener for lumberjacks and landscapers.