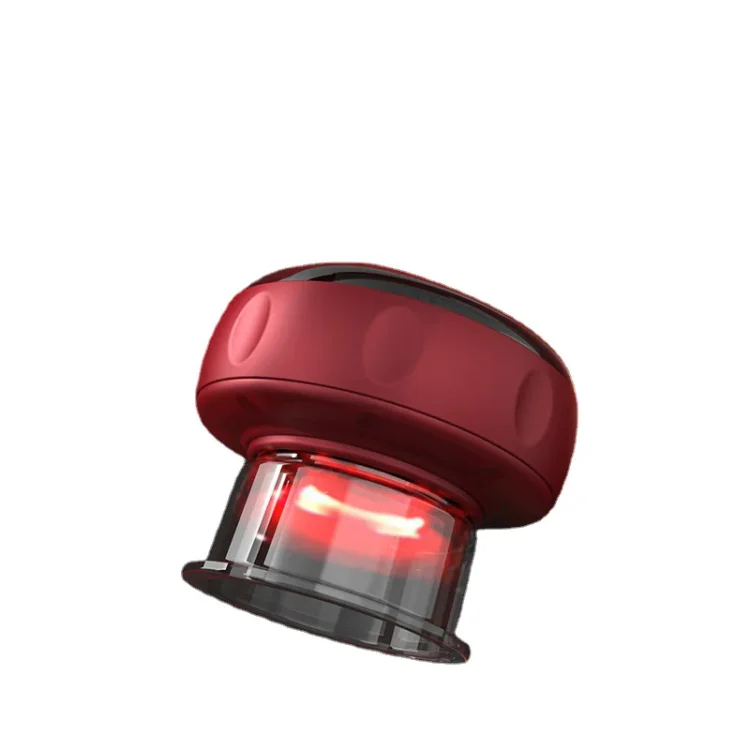 Cupping Therapy,

 

Modernized
The ancient healing method of cupping has continuously shown powerful benefits in dramatically improving recovery, cellular immunity, alleviating pain, knots, and increasing blood flow while reducing inflammation. Combining this technique with modern systems such as adjustable dynamic "breathing," EMS, red light penetration, and therapeutic heating, we have designed one of the most powerful and convenient all-in-one therapy devices for home and office use.
Remarkable Benefits
Massage away painful knots
Release toxins & promote mobility
Improve blood flow for enhanced recovery
Smooth away scar tissue & cellulite
How it Works / Features
DYNAMIC "BREATHING" TECHNOLOGY - featuring rhythmic alternation of suction and release as "breathes" in calculated motions. The result is a fantastic boost in blood circulation to the concentrated area, speeding up the recovery process while massaging out muscle knots and acute pain.
RED LIGHT THERAPY - penetrating red light therapy during your sessions to support healthy cellular immunity and growth with continued use while providing faster healing in the short term.
THERAPEUTIC HEAT - adjustable levels of heat allow for the local region of muscles to relax so the benefits of cupping are maximized. Easily adjust your preferred level of heat up to 122°F for a soothing session.
ADJUSTABLE - choose your level of intensity when it comes to suction power, heating, and red light therapy with 6 levels of intensity (base model) and up to 12 with our high intensity variant for those with greater tolerance.
SELF-APPLICABLE & PORTABLE - a professional therapy session whenever you need it. No need to rely on a professional to apply the therapy on you, like traditional cupping. Just power it on, select your preferred intensity and apply for a soothing, recovery-boosting, ache-relieving session!
MAXIMIZE CUPPING BENEFITS - maximize your session's benefits by applying several of our devices for simultaneous function, saving time and enhancing the effectiveness of each session. This is why we have introduced deeper savings with larger quantity purchases.
Therapy vs. Traditional Cupping
Cupping therapy has long since been a reliable practice helping with pain, managing inflammation, boosting blood flow, and providing a deep-tissue massage all while relaxing the body. However, the draw backs have turned off many health-conscious individuals from being consistent with this powerful mode of therapy.
With the cost of an average session at a professional's office ranging in the hundreds of dollars, many are turned away from regular visits. With Therapy, this cost has become negligible as our reliable cuppers are built to last a lifetime of therapy. Set at a convenient price, with even more convenient functionality, can be applied anytime at a moment's notice with ease. Pack that on with its multifunctional capabilities, and you have the most practical at-home therapy device ready to maximize its amazing benefits from every single session.